So Cal Riders .com
The local site dedicated to local riders, updated weekly with photos of riders
at all the popular local riding areas. If you ride at Palomar Mountain,
they probably have a photo of you. If you do wheelies in front of
other drunken dorks at the beach, they will have 2 photos.

Cycle News .com
They have news about cycles. Duh.



Road Racing World and Motorcycle Technology
Lots of good articles and the ever popular Crash Page.
The print version takes two months to read. Lots of good stuff.



VTR Registry
Mica Peak has a large free registry for owners of all the popular bikes.
A great source of info from other Honda owners.
No, you aren't the only one with a leaky waterpump.


Two Brother Racing
Cool stuff for Hondas (and other bikes, if you are weird).



Motorcycle Safety Foundation
All the safety you want, the lower insurance you need.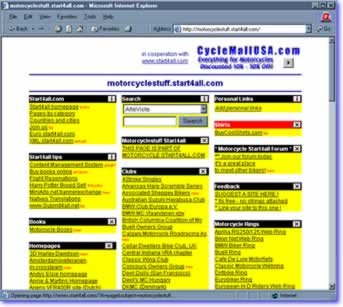 MotorcycleStuff.com
Links to other sites that pale in comparison.


TicketAssasin.com
Has lots of info on fighting the inevitable,
most of which seems correct...
J&P Cycles - Parts for your Metric Cruiser Motorcycle!


Wolf Exhaust.com
Wolf has some nice looking Honda pipes
lovingly fabbed in the U.K..