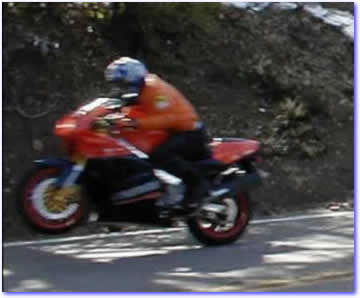 Sui pulling some gears on
a twin of a different nature.
Courtesy of aTasteOfOrange.com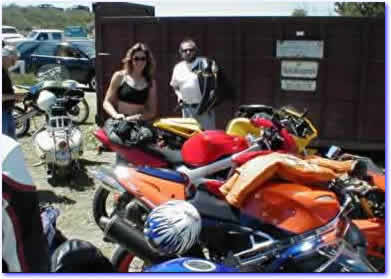 Sui has some friends. Oh,
and there is a Hawk in the
photo...somewhere.



Alex May at a track day at Talladega, with Erion slip-ons and suspension at work..





"Mr. Laverda" trades

in the twin for a

"Three-Time World

Champion" Freddie

Spencer Honda ride.

Unlike others that day,

we

stayed upright.
Watanabe Racing sells really cool stuff. This version has a braced swingarm and pivot, Ohlin forks, machined triple clamps, and Brembo calipers. Is that a c/f ram-air system?




GIMME GIMME GIMME!!!
Rick Piper added a few mods:

Remus Ti tail pipes,
PowerBronze lowers,
Maxton fork mods,
Pirelli Corsa's
Documented proof an old VFR750 is physically capable of lifting it's front wheel despite the strong bonds of gravity on an object with large mass.



(Do you think Troy is disappointed the San Diego Sheriff's Dept. doesn't share in his zest of practical science experimentation?)